Today we take a look at the Gyroor 2022 new arrival Gyroor Y1 series hoverboards. In this review, we will cover the Gyroor Y1 Pro model.
If you are looking for an electric scooter designed specifically for off road, the Gyroor Y1 Pro is a great choice. It has powerful motors, sturdy big wheels, and can take you across all kinds of terrain with ease.
This hoverboard is suitable for adults, teens and children, even if you are a heavy adult, as long as you weigh less than 265lbs, it will easily carry you around.
This Gyroor Y1 Pro can be regarded as an upgraded version of Gyroor warrior hoverboard, with a new integrated design, which is more convenient for beginners to learn and ride.
In this article, we will talk about the Gyroor Y1 Pro's features, pros, and cons, and specifications.
Specification:
Motor: 700W
Top speed: 10mph
Range: 5-11 miles
Battery: 36V 4Ah (148Wh)
Max load: 120kg (265 lb)
Weight: 15kg (25.6 lb)
Frame: Aluminum
Wheels: 8.5-inch
Features:
Battery
Motor
Tires
Weight
Riding mode
Other functions
Gyroor Y1 Pro Hoverboard
This Y1 Pro hoverboard come with dual 350W motors, 8.5" wheels, max load 265 lbs, max speed 10 mph and max range 11 miles.
Battery
The Gyroor Y1 Pro comes with a 36V 4 Ah battery. This is great if you're looking for a hoverboard with a large battery.
This hoverboard uses an 18650 lithium battery pack, which takes only 2.5 hours to fully charge. When the battery is fully charged, the ride can reach a maximum speed of 10mph and a cruising range of up to 11miles (depending on rider weight and terrain).
Motor
Dual 350-watt hub motors make this Y1 Pro the best off-road hoverboard.
With this, it can produce a massive 700 watts of power, which allows it to traverse all kinds of terrain.
If you want to climb hills a lot or go off-road outdoors, you don't have to worry either, because it can handle them better, and it has a maximum climbing angle of 30°.
Tires
The Y1 Pro comes with 8.5-inch tires. You can easily handle complex terrain such as grass, sand, dirt roads, etc.
Weight
The Gyroor Y1 Pro is a heavy-duty hoverboard that weighs a little at 25.6 pounds. Meanwhile, the maximum ride weight is 265 pounds, which covers the vast majority of adults.
Two riding mode
Y1 Pro hoverboard has two riding mode: child and adults. For beginners/child, please riding with child modes.
And the Y1 series hoverboard has a new design, The integrated design makes it easier for novices to control and learn more easily.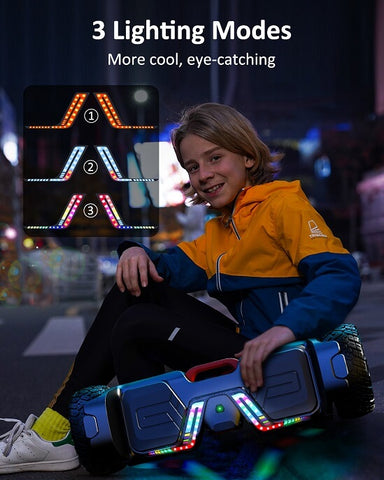 Other functions
The Gyroor Y1 Pro come with Bluetooth, Music speaker. You can connect it to your mobile phone with "GYROOR" APP.
With the APP, you can play musics, change LED light colors, switch riding mode, check battery level and speed.
Pros
Dual 350W Motor
Max speed 10mph
5"Big wheels
Max load 265lbs
With handle, easy to carry
Bluetooth with Music
APP control
Cons
Final Words
If your hoverboard budget is around $300, then the Y1 Pro is perfect for you, it's well designed and powerful enough to keep you entertained for years.
Powerful power and big wheel design allow you to enjoy riding in a variety of environments.
If you're looking for a powerful hoverboard, the Gyroor Y1 Pro is well worth trying.