Ultimate Buy Guide: Best Self Balancing Scooter 2022
A good self-balancing scooter can bring people hours of fun while helping people stay "active". We introduce each product from the speed, structure, LED lighting, tilting ability, range, safety, and auxiliary functions of the scooter, such as built-in speakers and dedicated smartphone applications.
Top rated Self Balancing Scooter 2021
 #1 Gyroor G5 - Best Gift for Kids and Adults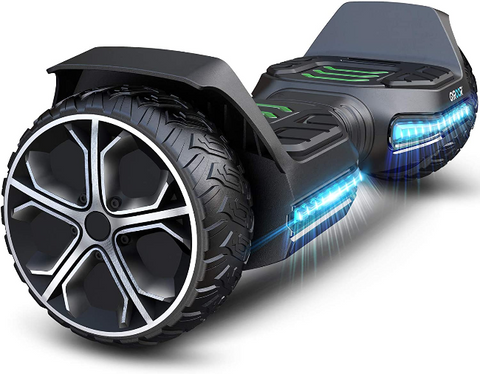 Price:$229
This 6.5-inch hoverboard has passed UL2272 battery safety certification and can travel 7.75 miles on a single charge. This is a good choice for beginners who want the convenience and safety of using the hoverboard for the first time.
Advantage
Best for kids
Two riding modes (children/adults)
UL-2272 certification
Smart APP
Our favorite feature is the Gyroor app, which allows users to turn on/off lights and choose color schemes. Bluetooth HIFI and dual 5-watt speakers play your favorite songs. In terms of statistics, the app includes odometer and trip information. A bonus item for UL 2272 certification, which is an award from Underwriters Laboratories of the United States, which guarantees the quality of battery packs.
This self-balancing scooter has a top speed of 7.75 miles per hour, which is safe for young children. For better control, it provides two riding modes-children and adults, each of which has its own maximum speed. This is a great way for children, as beginners can start and move up once they have improved their balance. You will love how sweet the best hoverboard ride is.
#2  Gyroor T580 - Self Balancing Hoverboard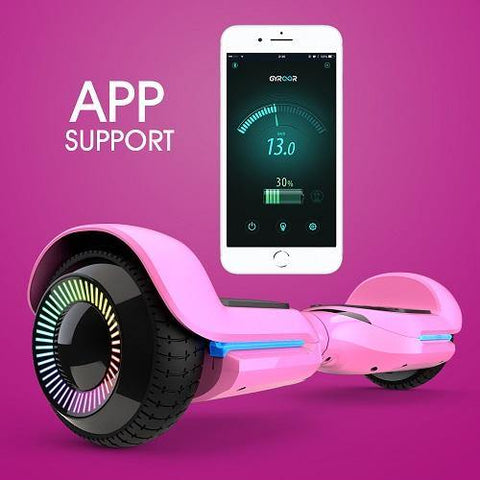 Price:$167
This Gyroor T580 hoverboard has a UL 2272 battery safety certification and has a top speed of 7.5 miles/hour. This is a good choice for people who want to use a safe battery to give priority to safety.
Advantage
Top speed 7.5 mph
UL2272 certified
Built-in Bluetoothspeaker
Disadvantage
10 degrees climbing angle
This all terrain self-balancing scooter rides very smoothly. Using 6.5-inch rubber tires and shock-absorbing pedals, it can also work well on rough terrain such as grass and pebbles.
What we like about this self-balancing scooter is its built-in Bluetooth speaker, which can be connected to Bluetooth to play your favorite music. It also has a considerable charge-to-run time ratio, which can be charged for 3-5 hours after 30 to 60 minutes. It also has a load-bearing capacity of 220 pounds. This is in line with the most suitable hoverboard for children. With its Bluetooth function, you can also check battery life and statistics from your iOS or Android device.
#3  Gyroor warrior - Self Balancing Scooter For Adults
Price:$299
This self-balancing hoverboard has 8.5-inch rubber tires and powerful 700-watt motor. This is a good choice for people who want to ride off-road and steeper slopes.
Advantage
Best offroad
Powerful motor
30 degree tilt angle
Disadvantage
Thanks to the two 350W brush-less motors of this hoverboard, it can reach a top speed of 9.95mph and a climbing angle of 30 degrees. It is made of durable aluminum with shock absorbers for smoother riding. In terms of safety, this hoverboard has passed UL2272 battery integrity certification.
The charging time ratio of this self-balancing scooter is quite impressive, charging 1.5 to 2 hours and can travel 7.5 to 9.5 miles. This means that it can last for more than a week, up to one mile a day, and is suitable for weekend trips. It has built-in Bluetooth speakers to play your favorite music. It may not be the fastest hoverboard, but it is still great.
#4 Gyroor T581 - Self Balancing Electric Scooter
Price:$279
This is the most suitable self-balancing scooter for children, with a top speed of 7.5 miles per hour, a weight of 265 pounds, and a built-in Bluetooth speaker. This is a perfect hoverboard, suitable for riding around the block.
Advantage
Disadvantage
Short 7.5 miles
10 degree tilt
It has a top speed of 7.5 miles per hour and a cruising range of 7.5 miles, making it very suitable for beginners.
Thanks to the built-in Bluetooth speaker and smartphone application of this hoverboard, it can play music or configure one of two riding modes-children and adults. Other statistics such as speed and battery life are also displayed in an intuitive way. We really found the app to be well laid out and easy to use. Definitely a competitor for the most suitable scooter for children.
 #5  Gyroor G11
Price:$199
This self-balancing electric scooter is equipped with a built-in Bluetooth speaker and interesting flashing LED lights. This is a hoverboard very suitable for children and beginners.
Advantage
Very suitable for night riding
Great gift for kids
This best hoverboard weighs only 17.6lbs, making it the lightest hoverboard on our list. Children can also enjoy the built-in wireless speakers and LED lights on the front and on the wheels.
Another feature that made this self-balancing scooter the winner of our book is its UL 2272 certification. SGS confirms that it complies with strict safety and manufacturing standards, and convinces us that it will not cause short circuits, leakage or overheating to us.
Conclusion
The holiday season is coming, are you ready for your holiday gift?
Buying a hoverboard as a gift is a good choice for you. All of our hoverboards have passed UL2272 safety certification, and provide a 6-month warranty on the battery.
We Gyroor also provide electric scooters, electric bikes, have any interest about them, please visit here:
Leave a comment
Comments will be approved before showing up.